PostNord Pallet Exchange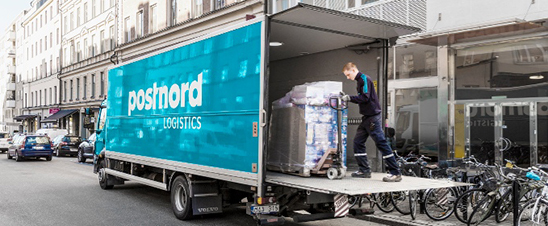 Pallet exchange is financially and environmentally beneficial, which is why we offer this service to our customers.
The scheme only covers approved EUR pallets.
Excepted from the scheme are EUR pallets that are clearly marked with the label "PALLET NOT FOR EXCHANGE" and the goods is also plastic-wrapped/lashed to the pallet so that the consignment goes unopened to the recipient.
Any non-conformances to the recommendation will be laid down in PostNords contracts with customers and carriers.
PostNord keeps an account of all parties that use the company's pallet receipts. All settlement of the account takes place in the form of the return of approved EUR pallets, unless the parties agree on another form of reimbursement.​
Pallet receipts
Only pallet receipts with the company's logo are valid documentation of the claim.
Pallet receipt requirements:
Pallet receipts must be obtained for all exchange of pallets.
Receipts must be signed by both sender and recipient of the receipt.
It must only be completed by two parties.
Use either the vehicles registration number or the driver number.
The number of pallets must be entered in the delivery party's field.
The receipt must be clearly entered using a dark pen.
Part 1 of the pallet receipt, "Co-loader's original" must be sent to/handed in to PostNord without undue delay, no later than one month after completion.
Please contact PostNord if you have any questions about completion.
Unclear or late receipts may be charged to the person completing the receipt, or not accepted by PostNord.
For partial coverage of PostNords costs of pallet exchange and return deliveries, the sender will be invoiced for part of the costs.
The sender may only invoice the recipient for pallets when it makes up a single item with the goods and is clearly marked with the above-mentioned label.​
Approved EUR pallets
An approved EUR pallet is fit for traffic. This means that it does not have any damage or contamination that damages the goods and that means that it has all of the stamps that ensure that it has been manufactured according to the standard.
EUR pallets will not be approved if the pallet has one or more of the following defects:
One board is missing or is very splintered/ fractured
One or more top or bottom board have cracks that mean that nails/screws protrude
One block is missing or has cracks that mean that nails/screws protrude
The necessary stamps are missing
The pallets smells bad and/or is contaminated
Do you have questions?
or call 09300